Supporting the Spanish Crown
8. In Service with the Duke of Nájera

In 1517 at the age of 26, Iñigo left Madrid. He went to another distant relative, Antonio Manrique de Lara, Duke of Nájera, in Navarra, a kingdom which had straddled the Spanish/French border in the central Pyrenees. Navarra (south of the Pyrenees) had recently been taken under the Spanish crown.
The local Navarrese were not happy with their loss of independence. The Duke, being the viceroy in this area was a focus of their unhappiness. For the next four years Iñigo served the Duke as a form of equerry, a right hand man. Iñigo, with his diplomacy and courtly manners, proved useful in countless negotiations to maintain the peace with the warring factions of the area.
---
A thought to ponder
As you matured as an adult did you find that you had skills and abilities that other people relied upon? What personal gifts do you particularly want to thank God for?
---
Scripture for the Day
As a way of praying today's Scripture we suggest, Imaginative Contemplation.
Luke 12: 54-59 NRSVACE

Jesus said to the crowds,
'When you see a cloud rising in the west, you immediately say, "It is going to rain"; and so it happens. And when you see the south wind blowing, you say, "There will be scorching heat"; and it happens.
You hypocrites! You know how to interpret the appearance of earth and sky,
but why do you not know how to interpret the present time?
'And why do you not judge for yourselves what is right?
Thus, when you go with your accuser before a magistrate, on the way make an effort to settle the case, or you may be dragged before the judge, and the judge hand you over to the officer, and the officer throw you in prison. I tell you, you will never get out until you have paid the very last penny.'
---
Music for Today
It is well with my soul written by P.P. Bliss sung by the Gracias choir.
Purchase more of the music of the Gracias Choir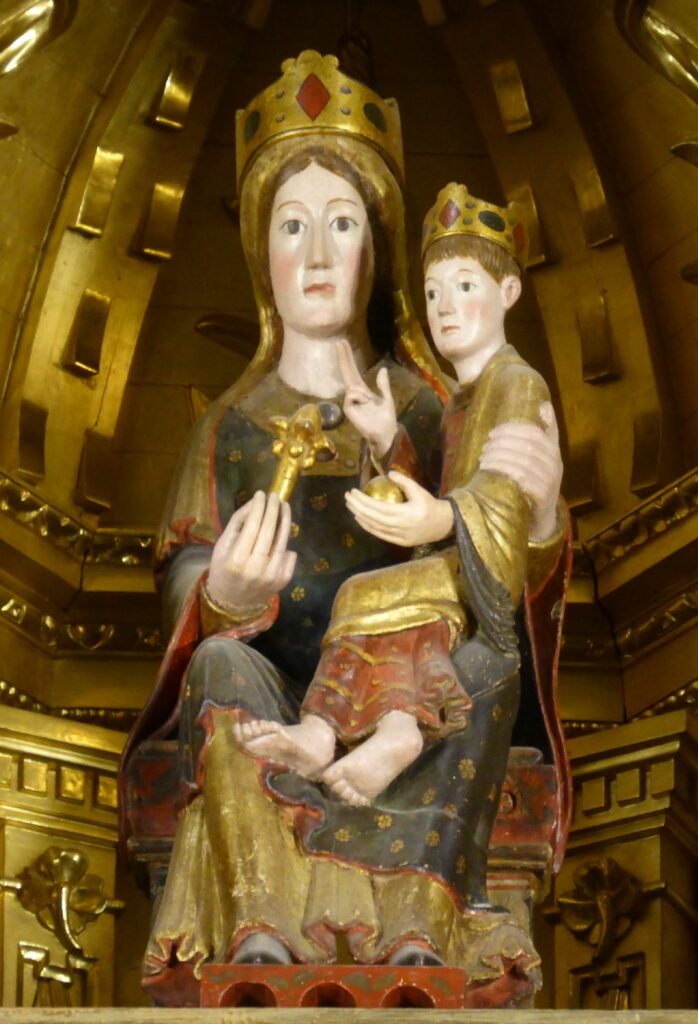 Virgin and Child
Medieval statue in the monastery church in Nájera.
Doubtless seen by Ignatius when he was in service with the Duke.
Photo: Carlos Teixidor, Wikimedia
Live Weekly Review
Join us for a live review of the week either on Friday afternoon at 2pm or Sunday afternoon at 3.30pm UK time. For a Zoom Link Click Here. We recommend this prayer time especially for those of you who are not members of another group.