Montserrat
13. Arriving at the Benedictine Monastery
Coming close to Barcelona, Iñigo arrived at the shrine of the Black Madonna high in the hills of Montserrat, which is run by Benedictine monks.
He followed the knightly tradition of making an all-night vigil in front of the image of Our Lady and left his sword and dagger on the altar.
He also gave away his mule to the Abbot of the monastery and his fine clothes to a local poor man. Iñigo had made up his mind to live in poverty.
Lyrics

Mary my star, shine bright above the mountains,
Guide me along your way.
Mary my star, though sharp the rocks may be,
Shine out, shine through, shine now.

The rose that blooms along my way speaks of your care,
Shows ways you're near,
The flowers that dance and lift their heads
say loud to me 'I'm with you here'.
When I with you can see things as they really are,
See with pure eyes,
Then I can see his form in everything that's small,
that's big, that's now.

The breeze that blows along my ways speaks of your love,
leads from above,
It carries scents, it echoes sounds, sings clear to me:
'l hear your prayer'.
When I with you can hear things as they really are,
hear with true ears,
Then I can hear the sound in everything that's far,
that's near, that's here.

The sun that shines along my way, shines from your sky,
warms with his love;
It draws out scents, glints soft through shades,
speaks strong to me — 'I'm touching you'.
When I with you can touch him as he really is,
feel with new sense;
Then I can find our Lord in everything that warms,
that lights, that shines.
---
A thought to ponder
Due to climate change we are all being challenged to live a life which demands less of the earth's resources.
Do you feel that you live a simple lifestyle or are there ways you could change your lifestyle to make it more compatible with Gospel values?
---
Scripture for the Day
As a way of praying today's Scripture we suggest, Imaginative Contemplation.
Mark 10:17-22 NRSVACE
As Jesus was setting out on a journey, a man ran up and knelt before him, and asked him,
'Good Teacher, what must I do to inherit eternal life?'
Jesus said to him, 'Why do you call me good? No one is good but God alone.
You know the commandments: "You shall not murder; You shall not commit adultery;
You shall not steal; You shall not bear false witness;
You shall not defraud; Honour your father and mother."'
He said to him, 'Teacher, I have kept all these since my youth.'
Jesus, looking at him, loved him and said, 'You lack one thing; go, sell what you own, and give the money to the poor, and you will have treasure in heaven; then come, follow me.'
---
Music for Today
La Virolai sung by the Escolania de Montserrat.
Purchase more of the music of the Escolania of Montserrat
Translation of the Virolai

April Rose, Black Madonna of the Mountains,
You're the star atop Montserrat:
Cast your light upon the Catalan land,
Guide us to Heaven.

With a golden saw, the little angels cut
Those hills, so as to build you a palace.
Queen of Heaven, taken to earth by the Seraphim,
Give us shelter under your blue veil.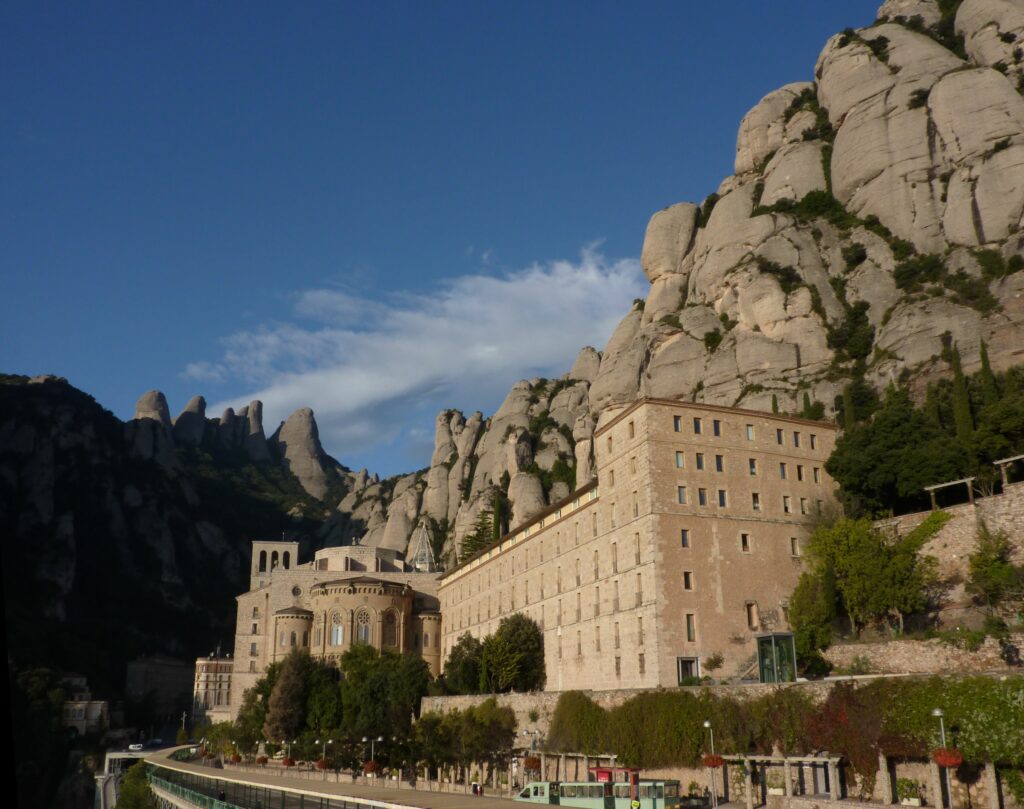 Montserrat Abbey
Symbol of Catalunya, the Abbey of Montserrat with its community of monks and choir school, exists today as it did in the time of Ignatius.
Photo: DWB Ignatian Pilgrimage