The Vision at La Storta
27 Reassurance from Christ
On the way to Rome in 1537, at a little ruined chapel by the main road, Ignatius had a vision. He saw Jesus carrying a cross. Jesus promised him that he would be good to him in Rome. With his medieval piety, Ignatius believed that Jesus was probably promising him martyrdom in Rome, and so he left for that city with great enthusiasm.
Ignatius' martyrdom in Rome was of a different sort. Not being killed for Christ's sake, but living his life for Christ; and a very active and fruitful eighteen and a half years he had there, although he probably spent far too much time sitting at a desk and writing letters to please a former knight in shining armour!
Lyrics

Mother of evening leading now
to new hopes near old hills.
Mother whose heeding's breathing now
what day 's meaning distils.
Mother of twilight, my light in shadows
and evening's dark fears.
Mother whose morning's dawning in hearts
where his glory appears.

Mary place me with your son, let his name make me free.
Mary place me with your son, let his life flow through me.
Lead us to where we best can share all his loving can give,
Make us his home, wherever we roam, let his love grow through us.

Turning as tides turn, rising, falling and always by me,
With me in sadness, in my joy as she walks on my sea.
Silver as sunlight, blue as the sky
when the storm clouds have passed,
Mary at evening, spreading new meaning
in each son's new heart.
---
A thought to ponder
Have you ever had a vision, or felt that you experienced the presence of God? God is here in out times too, and still communicating with us. Maybe your experiences have been a little less dramatic than the conversion of Saint Paul or the vision of Saint Ignatius, but perhaps it was sufficient to help you really believe in God. Look back on your life on the times you experience God, what did these experiences mean to you?
---
Scripture for the Day
As a way of praying today's Scripture we suggest Imaginative Contemplation.
Acts 22: 6-11 NRSVACE
Saint Paul Tells of His Conversion
'While I was on my way and approaching Damascus, about noon a great light from heaven suddenly shone about me. I fell to the ground and heard a voice saying to me, "Saul, Saul, why are you persecuting me?"
I answered, "Who are you, Lord?"
Then he said to me, "I am Jesus of Nazareth whom you are persecuting."
Now those who were with me saw the light but did not hear the voice of the one who was speaking to me. I asked, "What am I to do, Lord?" The Lord said to me,
"Get up and go to Damascus; there you will be told everything that has been assigned to you to do."
Since I could not see because of the brightness of that light,
those who were with me took my hand and led me to Damascus.
---
Music for Today
City of God – The St Louis Jesuits, Dan Schutte
Purchase more of the music of the St Louis Jesuits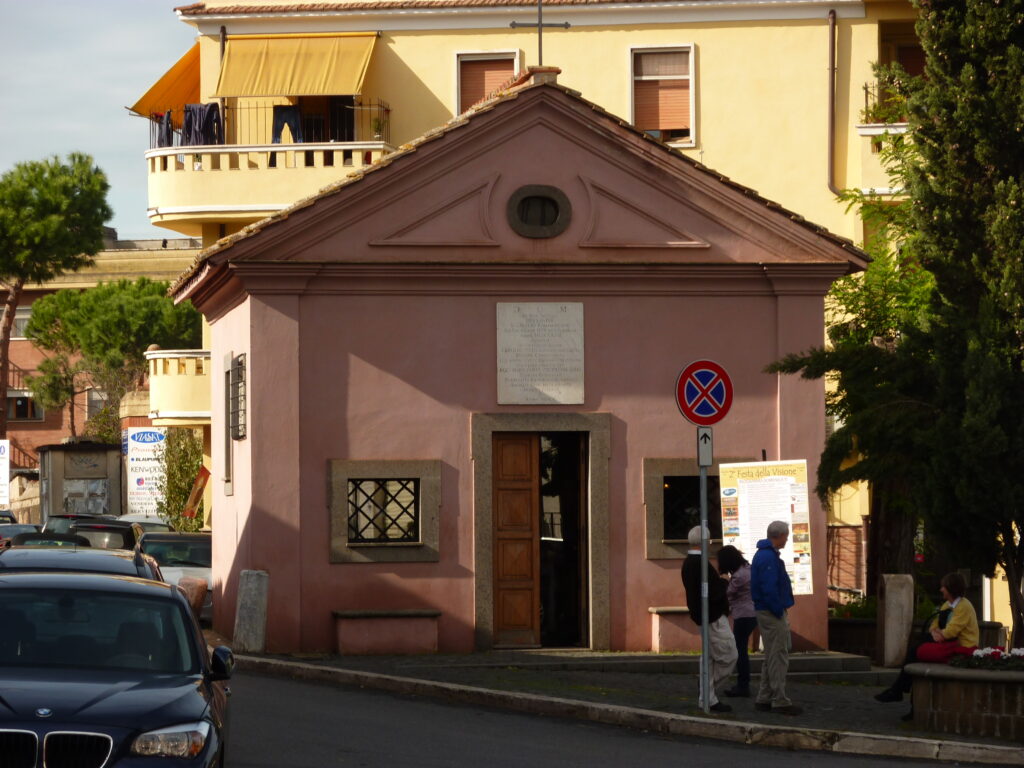 La Storta
The little pink chapel in La Storta, completely rebuilt after being destroyed in the Second World War.
Photo: DWB Ignatian Pilgrimage