St. Benedict was born c. 480 CE, Nursia [Italy]
Benedict was sent by his parents to a school in Rome. However, he was unimpressed by the lives of the Roman people so, rejecting the licentiousness of the city, as a young man, he went to live in the Simbruinian hills and later in a cave above Subiaco.
He became renowned for his holiness, and people sought him out. Benedict was persuaded to become abbot of a local monastery. His reforming zeal was resisted, however, and an attempt was made to poison him. He returned to his cave. Once again disciples flocked to him, and he founded 12 monasteries, each with 12 monks, with himself in general control of all.
He had to leave the area because of disturbances from local clergy. A few disciples followed Benedict south, where he settled on the summit of a hill rising steeply above Cassino, halfway between Rome and Naples. The district was still largely pagan, but the people were converted by his preaching.
There he wrote his Rule and developed a way of living monastic life in community. Although authoritative and thorough, Benedict also displayed a spirit of moderation. His monks are allowed clothes suited to the climate, sufficient food and sufficient sleep. The balance of prayer, work, and study is one of Benedict's legacies.
Benedict died c. 547, Monte Cassino
In 1964, in view of the work of monks following the Benedictine Rule in the evangelization of so many European countries in the Middle Ages, Pope Paul VI proclaimed him the patron saint of all Europe.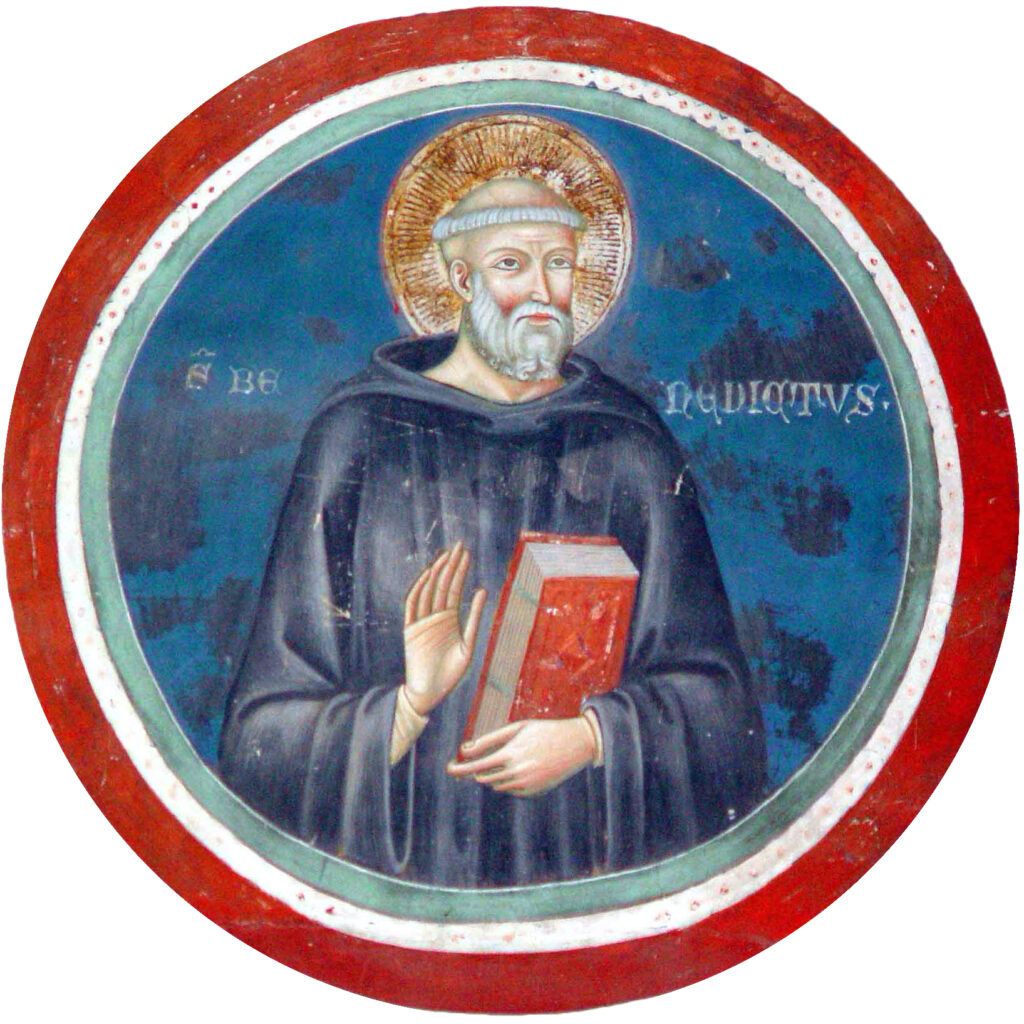 Name: Benedict
480: Born in Nursia, Italy
c 500: Left school in Rome because of the city's licentiousness and lived in a cave in Subiaco.
530: Founds a new monastery at Monte Cassino
547: Died in Monte Cassino
1220: Canonised by Pope Honorius
1964: Proclaimed patron of Europe

Quote from Saint
Do not be daunted immediately by fear and run away from the road that leads to salvation. It is bound to be narrow at the outset. But as we progress in this way of life and in faith, we shall run on the path of God's commandments, our hearts overflowing with the inexpressible delight of love.

Rule of St Benedict 48-49
Today's Scripture
Genesis 32:22-32 New Revised Standard Version, Anglicised Catholic Edition
22 The same night he got up and took his two wives, his two maids, and his eleven children,
and crossed the ford of the Jabbok.23
He took them and sent them across the stream, and likewise everything that he had. 24
Jacob was left alone; and a man wrestled with him until daybreak. 25
When the man saw that he did not prevail against Jacob, he struck him on the hip socket;
and Jacob's hip was put out of joint as he wrestled with him. 26
Then he said, 'Let me go, for the day is breaking.'
But Jacob said, 'I will not let you go, unless you bless me.' 27
So he said to him, 'What is your name?' And he said, 'Jacob.' 28
Then the man said, 'You shall no longer be called Jacob, but Israel,
for you have striven with God and with humans, and have prevailed.' 29
Then Jacob asked him, 'Please tell me your name.'
But he said, 'Why is it that you ask my name?' And there he blessed him. 30
So Jacob called the place Peniel,
saying, 'For I have seen God face to face, and yet my life is preserved.' 31
The sun rose upon him as he passed Penuel, limping because of his hip. 32
Therefore to this day the Israelites do not eat the thigh muscle that is on the hip socket,
because he struck Jacob on the hip socket at the thigh muscle.
Thought for the Day
The three vows every Benedictine professes are stability, conversio, and obedience.
Stability means remaining in the one particular monastic community in which one has made solemn profession. This is a rejection of the idea that "the grass is greener on the other side" and a conscious moving away from filling the emptiness inside with rushing from one distraction to the next. But it is also an acceptance of oneself and one's own limitations. Living closely with others can reveal both our best self and our ingrained destructive attitudes and behaviours.
Conversio or "conversion of life," means living out the way of life we have committed to and growing in it day by day. This means giving up individual preferences to live and work alongside others, and through doing this to make an offering of ourselves to God.
Obedience means, above all, obedience to the abbot, who, St. Benedict tells us "Is Christ's representative. Obedience freely chosen enables a person to centre his or her life in God rather than them self.
Two other familiar pillars of Benedictine life remain the daily rhythm of prayer and hospitality towards others. Guests are to be welcomed as "Christ himself".
What might stability, conversion and obedience mean to you?
How does a rhythm of prayer – both communal and personal – carry you in your life?
Music