Elizabeth was born into a wealthy Episcopal family in New York City. Her father was a doctor. Her mother died when she was only three years old.
She married William Seton when she was nineteen and together they had five children. In 1797 with a group of other women she formed the Society for the Relief of Poor Widows with Small Children, with Elizabeth serving as treasurer. She was a leader of the USA's first charitable society founded and run by women.
After eight years of marriage her husband fell sick with tuberculosis. They went with one daughter to stay with friends in Tuscany, Italy where they thought the climate might help his illness. It didn't. However, while in Italy Elizabeth got to know the Roman Catholic Church, and particularly was attracted to its devotion to the Blessed Sacrament.
After the death of her husband Elizabeth returned to the USA and set up a school for boys to support herself and the family. She converted to Catholicism and because of anti-Catholic prejudice, had problems maintaining the numbers of pupils in her school. But she was invited to come to Maryland and start a Catholic school. She started the first free Catholic school for girls in the USA at Emmitsburg, Baltimore. The widow Elizabeth had attracted a group of women to work with her and by 1809 had established the first native Religious Order in the USA. Elizabeth took charge of of this group known as the Sisters of Charity of St. Joseph who lived under a modified rule of the Sisters of Charity of St. Vincent de Paul. She became Mother Seton.
The group had established two schools and two orphanages by 1818 and by Mother's death in 1821 they had 20 communities and were working in Philadelphia, New York as well as Emmitsburg.
A remarkable element in her life was how she coped with the death of so many people who were dear to her, including her mother, her husband and two of her own children. Her faith in a loving God not only survived but grew through her family sorrows. Throughout her life she managed to raise a family of five as well at work for many other children.
Mother Seton herself died after a three year struggle with tuberculosis at the age of 46.
She was beatified by Pope John XXIII in 1959 and canonised by Paul VI in 1975. The first canonised saint native to the United States of America.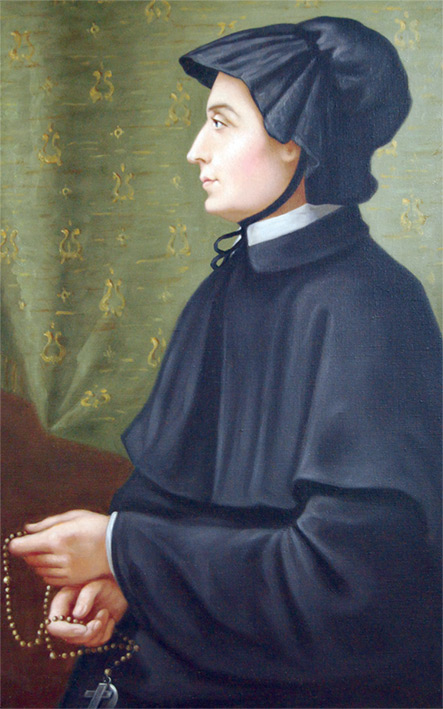 Name: Elizabeth Ann Bayley
1774: Born in New York City
1794: Married William Seton.
1803: Widowed in Italy.
1805: Became a Roman Catholic.
1809: Formed a religious group of women.
1812: Took vows as Sister of Charity of St. Joseph.
1821: Died in Maryland, USA.
1975: Canonised by Paul VI.
Quote from Saint
"Cheerfulness prepares a glorious mind for all the noblest acts."

Elizabeth Ann Seton
Today's Scripture
Luke 6 New Revised Standard Version, Anglicised
Jesus came down with them and stood on a level place, with a great crowd of his disciples and a great multitude of people from all Judea, Jerusalem, and the coast of Tyre and Sidon. 18 They had come to hear him and to be healed of their diseases; and those who were troubled with unclean spirits were cured. 19 And all in the crowd were trying to touch him, for power came out from him and healed all of them.
20 Then he looked up at his disciples and said:
'Blessed are you who are poor,
for yours is the kingdom of God.
21 'Blessed are you who are hungry now,
for you will be filled.
'Blessed are you who weep now,
for you will laugh
22 'Blessed are you when people hate you, and when they exclude you, revile you, and defame you on account of the Son of Man. 23 Rejoice on that day and leap for joy, for surely your reward is great in heaven; for that is what their ancestors did to the prophets.
24 'But woe to you who are rich,
for you have received your consolation.
25 'Woe to you who are full now,
for you will be hungry.
'Woe to you who are laughing now,
for you will mourn and weep.
26 'Woe to you when all speak well of you, for that is what their ancestors did to the false prophets.
Thought for the Day
Some people like Elizabeth seem to have boundless energy, and are able to not only bring up a family but also to work for the good of the whole community.
Music
Elizabeth Ann Seton prayer sung by the Elizabeth Seton School Chorale