Return to Loyola
10. Convalescence – a brush with death and conversion.
Iñigo was treated well by the French conquerors and soon sent back on a stretcher to Loyola.
Here he was looked after by his sister in law, Magdalena. The worst affected leg had to be re-set.
Iñigo was near to death with fever.
However, eventually he recovered, though from this time he always walked with a limp.
In the boredom of convalescence he read the only two books available, one the life of Christ and the other on the lives of the Saints.
He spent his time alternatively dreaming of living a heroic and saintly life, and dreaming of a life with a beautiful high-born lady. He eventually found that dreaming of the saintly life brought him a longer-lasting sense of joy and satisfaction – consolation – than the dreams of his lady.
So he judged that God was speaking to him through his feelings.
Lyrics

Down steep black paths I slid away,~
I lost all sense of hope I'd return;
the pain was so great, my pulse so weak,
That I thought I'd not arise again,
I would not arise again.

Down strong black tides I ebbed away,
I lost all sense of hope I'd return;
The doctors spoke low, they shook their heads;
You will never walk again, they said,
You'll not walk your way again.

Down deep black holes I lost my hold,
Lost all sense of hope I'd return;
But as midnight struck on St. Peter's day,
Faint hope began to rise in me,
Hope of health rose new in me.
---
A thought to ponder
Have you ever had an experience that turned your life around?
Have you ever found looking forward to a new phase of life brought a sense of excitement, joy and consolation?
---
Scripture for the Day
As a way of praying today's Scripture we suggest, Lectio Divina
Psalm 23 NRSVACE
The Lord is my shepherd, I shall not want.
He makes me lie down in green pastures;
he leads me beside still waters;
he restores my soul.

He leads me in right paths
for his name's sake.
Even though I walk through the darkest valley,
I fear no evil;
for you are with me;
your rod and your staff— they comfort me.

You prepare a table before me
in the presence of my enemies;
you anoint my head with oil;
my cup overflows.

Surely goodness and mercy shall follow me
all the days of my life,
and I shall dwell in the house of the Lord
my whole life long.
---
Music for Today
The Lord is my Shepherd performed by Festival Adult Choir, written and conducted by John Rutter
Purchase more of the music of John Rutter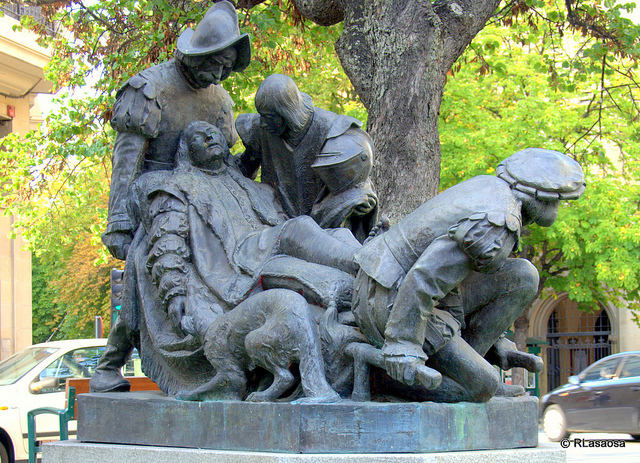 Taken back to Loyola
A memorial in the streets of Pamplona of Ignatius being stretchered back to Loyola.

Picture DWB Ignatian Pilgrimage