Visions and Enlightenment
16. Manresa – Discernment and light.
Eventually after a couple of visions Iñigo began to see the light. Nothing we can do can make us right with God. We cannot make amends for our past sins. We can only be sorry for them and receive the forgiveness that is freely offered.
Iñigo noticed how negative thoughts, which he saw as coming from the enemy of our human nature, would make us feel dissatisfied, hopeless and helpless, while the good Spirit would bring positive energy which lead us through love to God, ourselves and others. He wrote down his spiritual findings in Manresa which formed the basis of the little book we now know as The Spiritual Exercises of St Ignatius.
Lyrics

The Father loves the Son with all the love he is,
The Son responds with loving as total as his
The Spirit is the living love of Father and Son:
Receiving and giving their three loves as one.

How can a love so total say anything to me?
How can love be so selfless — so totally free?
How can love be a Spirit our eyes cannot see?
How can love speak love's meaning to you and to me?

The love of the Father took flesh in the Son,
The love of the Son still lives on in his friends;
The love of the Spirit is born in each heart,
Awaiting, awakening when locks break apart.

Lord Jesus Christ, my King, my Sun,
You are the source whence love's rays come;
You shine through all things, your loving flows
Through bread and wine, your presence grows.
I sense your light in every ray;
I see you shape each break of day,
In bread and wine though our eyes can't see,

I sense your love enliven me;
I see your rays one with the sun;
I See them reach to everyone;
In bread and wine Lord remembered be;
Transform our lives, Lord make us free.

The river runs deep along my road;
It hums its song, makes light my load;
It leads me on my fears;
It opens locks, releases tears.

Your river runs deep within my heart,
Releases springs in deepest parts,
It leads me on to spaces new,
It opens gates, lets flow what's true.

Our river runs deep, my heart is full,
Your song flows through each depth I feel;
I know you are here wherever I go;
Lord may our river ever flow.
---
A thought to ponder
Deep love allows the lover to forgive the beloved.
God's love for each and every person is such a deep love.
---
Scripture for the Day
As a way of praying today's Scripture we suggest, Lectio Divina
Psalm 32 NRSVACE
Happy are those whose transgression is forgiven,
whose sin is covered.
Happy are those to whom the Lord imputes no iniquity,
and in whose spirit there is no deceit.

While I kept silence, my body wasted away
through my groaning all day long.
For day and night your hand was heavy upon me;
my strength was dried up as by the heat of summer.
Then I acknowledged my sin to you,
and I did not hide my iniquity;
I said, 'I will confess my transgressions to the Lord',
and you forgave the guilt of my sin.
Therefore let all who are faithful
offer prayer to you;
at a time of distress, the rush of mighty waters
shall not reach them.
You are a hiding-place for me;
you preserve me from trouble;
you surround me with glad cries of deliverance.
I will instruct you and teach you the way you should go;
I will counsel you with my eye upon you.
Do not be like a horse or a mule, without understanding,
whose temper must be curbed with bit and bridle,
else it will not stay near you.
Many are the torments of the wicked,
but steadfast love surrounds those who trust in the Lord.
Be glad in the Lord and rejoice, O righteous,
and shout for joy, all you upright in heart.
---
Music for Today
Hiding Place written and sung by John Michael Talbot
Purchase more of the music and books of John Michael Talbot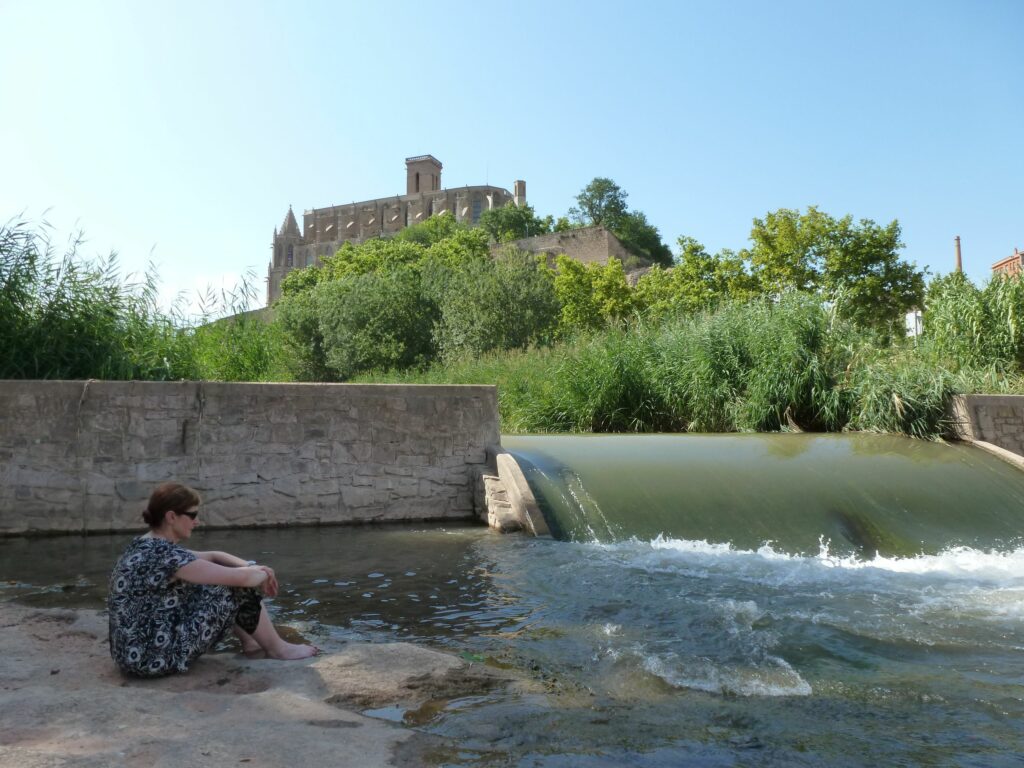 River Cardoner
Ignatius found that sitting by the river helped him to meditate. Perhaps unsurprisingly some of his greatest moments of enlightenment came when he was by the side of the river.
Photo: DWB Ignatian Pilgrimage