Barcelona
17. Making new friends
With a new-found humility and greater spiritual discernment Iñigo renewed his pilgrim way to the Holy Land. He arrived from Manresa knowing a cloth merchant, Iñes Pascual, who had a house in Barcelona.
He tried to beg his way to the Holy Land, via Italy, but sea captains were not keen to take on board non-paying passengers who would be a drain on their resources.
He had to bring his own food – ship's biscuits. He begged for biscuits.
As a beggar with courtly manners Iñigo attracted the attention of a pious and reasonably wealthy lady, Isabel Roser. She noticed him as he listened to sermons in the church of Saints Pastor and Justus, while sat with the children on the steps. She invited him home to listen to his story. She then probably saved his life as she insisted that he travel on a seaworthy ship rather than the old boat he had planned to use which promptly foundered not far out from Barcelona. Isabel remained a benefactor of Ignatius for the rest of her life, and even for a time became a Jesuit.
Lyrics

So for Jerusalem I started out, alone with him alone.
Kind friends in Barcelona saw me off with smiles and tears.
I passed through Rome, made Venice home,
where more friends begged me stay.
His air to breathe; his sun to see,
his likeness find, his image free;
My story's his, his story's mine; this story is Our way.
---
A thought to ponder
When you look back over the last few years, can you see people you have reached out to help?
Or maybe you have been helped yourself to move on in life by another person?
Whether reaching out or being reached out to, it is good to spend a little time in giving thanks to God for such opportunities.
---
Scripture for the Day
1 Thessalonians 5:12-24 NRSVACE
As a way of praying today's Scripture we suggest, Lectio Divina
But we appeal to you, brothers and sisters, to respect those who labour among you, and have charge of you in the Lord and admonish you; esteem them very highly in love because of their work.
Be at peace among yourselves.
And we urge you, beloved, to admonish the idlers, encourage the faint-hearted,
help the weak, be patient with all of them.
See that none of you repays evil for evil, but always seek to do good to one another and to all.
Rejoice always, pray without ceasing, give thanks in all circumstances;
for this is the will of God in Christ Jesus for you.
Do not quench the Spirit. Do not despise the words of prophets, but test everything;
hold fast to what is good; abstain from every form of evil.
May the God of peace himself sanctify you entirely; and may your spirit and soul and body be kept sound and blameless at the coming of our Lord Jesus Christ.
The one who calls you is faithful, and he will do this.
---
Music for Today
Rejoice in the Lord Always with the choir of Ansgar's Church, Odense, Denmark
Purchase more hymns of Hope, Love and Joy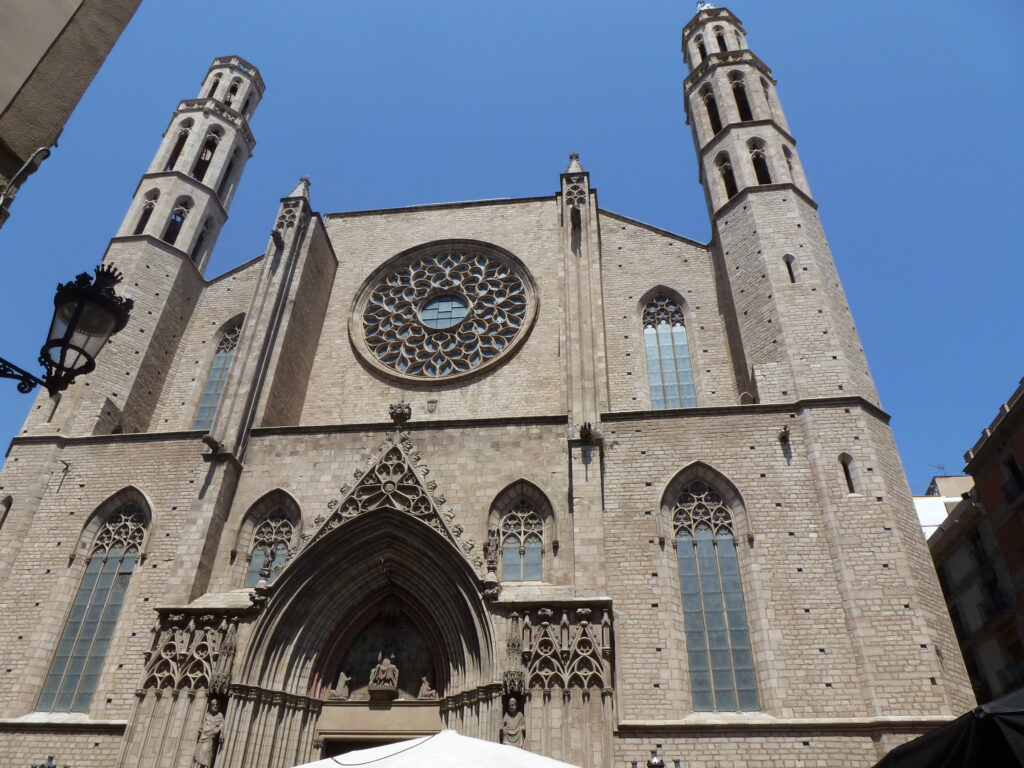 Saints Justus & Pastor
A church in old Barcelona where Ignatius would sit with the children and listen to sermons.
Here he met Isabel Roser.
Photo: DWB Ignatian Pilgrimage