Louise was born to Louis de Marillac, Lord of Ferrires, Le Meux, France, but out of wedlock and she never knew her mother. Louise lived and worked among the French aristocracy. She was cared for and received an excellent education at the royal monastery of Poissy, near Paris, where her aunt was a Dominican nun.
In her adolescence she had a desire for the religious life and applied to the Capuchin nuns, who rejected her application.
Her uncle, who was a major figure in the court of Queen Marie de' Medici of France, arranged a marriage for her with Antoine Le Gras, a young secretary to Queen Marie. They married in 1613 in February and nine months later had their only child, Michel. At this time Louise was also active in the Ladies of Charity, an organisation of wealthy women dedicated to assisting those suffering from poverty and disease.
Her husband suffered in a bedridden state for three years while Louise ministered to him. But she had an experience in prayer that suggested that after his death she would establish a group of women to minister to the poor.
After the death of her husband Louise met the priest, Vincent de Paul. He had helped established the Ladies of Charity, rich ladies who helped the poor. But Vincent and Louise saw a problem, the rich ladies were good at raising money for the poor, but they were not as effective at really helping those who lived in poverty. What was needed was women who were not afraid of getting their hands dirty and who could give their time to the poor, so a group was formed who would be called the Daughters of Charity (of St Vincent de Paul).
The Daughters were to be a group who were not confined to convents, but went out to the poor in their homes. They soon had set up hospitals and orphanages as well as institutions for the elderly and the mentally ill, reaching out to prisoners and soldiers on the battlefields. Vincent encouraged Louise and helped her in establishing the life with a balance of prayer, contemplation and work for the poor.
By the time of her death the Daughters of Charity had more than 40 houses in France.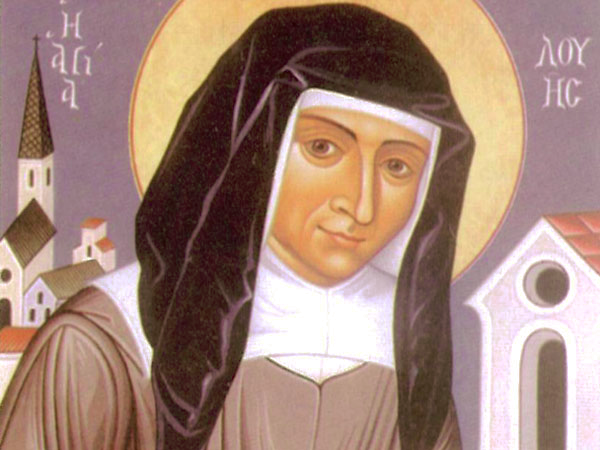 1591: Born in France and named Louise de Marillac
1613: Married to to Antoine le Grace
1613: Gave birth to only son, Michel.
1625: Became a Widow
1655: Daughters of Charity officially approved
1660: Died
1934: Canonised by Pope Pius XI
Feast Day: May 4
Quote from Saint
"Certainly it is the great secret of the spiritual life to abandon to God all that we love by abandoning ourselves to all that He wills."

Saint Louise de Marillac
Today's Scripture
Matthew 4 New International Version
23 Jesus went throughout Galilee, teaching in their synagogues, proclaiming the good news of the kingdom, and healing every disease and sickness among the people. 24 News about him spread all over Syria, and people brought to him all who were ill with various diseases, those suffering severe pain, the demon-possessed, those having seizures, and the paralyzed; and he healed them. 25 Large crowds from Galilee, the Decapolis,[g] Jerusalem, Judea and the region across the Jordan followed him.
Thought for the Day
In the history of the Church, we see people like Louise and Vincent who are aware of the needs around them, and respond in love and charity, inspired by their relationship with God. Often they start small, but if the Spirit is with them, and their ideas inspire others, their work can grow quickly.
What does the Church need to do to inspire the young people of today?
Music
John Michael Talbot – My Yoke is Easy