---
---
John Henry Newman began life as the son of a London banker. He became an evangelical Anglican when he was fifteen years old and went on to study at the University of Oxford, being ordained as an Anglican priest in 1825.
He used his profound intellect in writing, preaching and teaching at Oxford where he gradually moved towards the Catholic Church, converting in 1845 through the help of Dominic Barberi.
He joined the Oratorians and continued writing and preaching, becoming an honorary fellow of Oriel College in 1878. Pope Leo XIII made him a cardinal and he remained in the Birmingham oratory until his death in 1890.
Newman was also a literary figure: his major writings include the Tracts for the Times (1833–1841), his autobiography Apologia Pro Vita Sua (1865–1866), the Grammar of Assent (1870), and the poem The Dream of Gerontius (1865), which was set to music in 1900 by Edward Elgar. He wrote the popular hymns "Lead, Kindly Light", "Firmly I believe, and truly", and "Praise to the Holiest in the Height" (the latter two taken from Gerontius).
He left a legacy of writings that has inspired many to bear witness to the truth, especially in countries where Catholics are in a minority.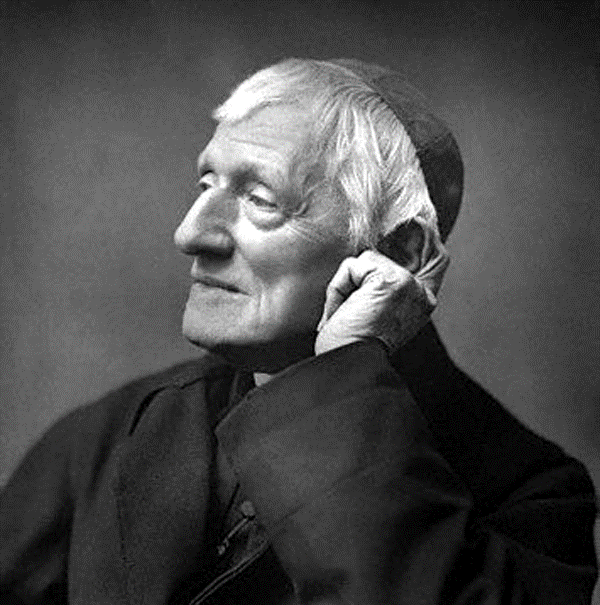 1801: Born in London
1825: ordained as Anglican
1845: Conversion to Catholicism, Oxford
1846: Ordained as RC Priest
1847: Joined Oratorians
1878: Named Cardinal.
1890: Died in Birmingham
2019: Canonised by Pope Francis
Quote
God has created me to do Him some definite service.
He has committed some work to me
which He has not committed to another.
I have my mission.
I may never know it in this life, but I shall be told it in the next.
I am a link in a chain, a bond of connection between persons."

Cardinal Newman
Today's Scripture
Luke 4: New Revised Standard Version, Anglicised, Catholic
16 When he came to Nazareth, where he had been brought up, Jesus went to the synagogue on the sabbath day, as was his custom. He stood up to read, 17 and the scroll of the prophet Isaiah was given to him. He unrolled the scroll and found the place where it was written:
18 'The Spirit of the Lord is upon me,
because he has anointed me
to bring good news to the poor.
He has sent me to proclaim release to the captives
and recovery of sight to the blind,
to let the oppressed go free,
19 to proclaim the year of the Lord's favour.'
20 And he rolled up the scroll, gave it back to the attendant, and sat down. The eyes of all in the synagogue were fixed on him. 21 Then he began to say to them, 'Today this scripture has been fulfilled in your hearing.' 22 All spoke well of him and were amazed at the gracious words that came from his mouth.
Thought for the Day
Instead of asking what God wants you to do, try asking God who he is.
Music