Following Ignatius of Loyola
9. Fighting the French in Pamplona
In 1521 the Duke of Néjera was called to provide troops to put down a revolt against the monarchy further south in Spain. With the bulk of the Spanish defensive forces away from Navarre, the French and the King of Navarre who had married into the French royal family, attacked to take the country back. Iñigo was left with a much depleted force to try and hold the Navarrese capital, Pamplona. The local commanders suggested surrender but Iñigo managed to persuade them to try and hold out against the superior French forces – a heroic, but ultimately doomed decision.
In the fighting, Iñigo was injured badly in the legs. He fell, and so did the fortress of Pamplona.
A thought to ponder
Have you ever found yourself out on a limb supporting an action or idea which was not popular with those around you? How did it turn out?
---
Scripture for the Day
Psalm 13
How long, O Lord? Will you forget me for ever?
How long will you hide your face from me?
How long must I bear pain in my soul,
and have sorrow in my heart all day long?
How long shall my enemy be exalted over me?
Consider and answer me, O Lord my God!
Give light to my eyes, or I will sleep the sleep of death,
and my enemy will say, 'I have prevailed';
my foes will rejoice because I am shaken.

But I trusted in your steadfast love;
my heart shall rejoice in your salvation.
I will sing to the Lord,
because he has dealt bountifully with me.
---
Music for Today
Song based on Psalm 13, sung by Alisa Turner
Purchase more of the music of Alisa Turner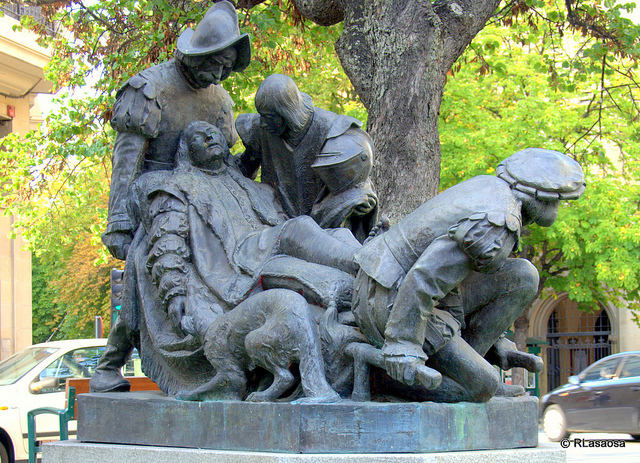 Memorial to St Ignatius in Pamplona.
He was taken on a stretcher about 100 Km from Pamplona to Loyola.
Photo: Ignatian Pilgrimage DWB